Book of Travel and Tribute Poems
The poems below are part of the collected work by Dr Wayne Visser: Life in Transit: Favourite Travel & Tribute Poems.
Life in Transit: Favourite Travel & Tribute Poems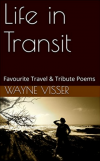 This creative collection, now in its 2nd edition, brings together travel and tribute poems by Wayne Visser. The anthology pays tribute to the likes of Nelson Mandela, Maya Angelou, Barack Obama, Antoni Gaudí & Leonardo da Vinci, and reflects on travels ranging from China and South Africa to Ecuador and Russia. Life is lived in the in-between / In transit / Between coming and going / Between staying and moving on / Between here and there / And what we call home / What we call settled or contented / Is merely a resting place / A station for refuelling / A nexus for reconnecting / A junction for changing direction. Buy the paper book / Buy the e-book.
Poems
Travel Far – As you travel far and venture wide, expect the tide to ebb and flow, the ride …
Fifty-Two – The year began in buoyant mood, a welcome changing of the guard …
The Race of Our Lives – We are in the race of our lives, whether or not we know it …
Call to Adventure – This is a call to adventure: to set off together for distant lands …
Fifty-One – There are years that crawl and years that fly …
Fifty – In all my years upon the Earth, this was the strangest since my birth …
All the Colours – The very moment that we met I knew we would be best of friends …
Life goes on – … But do not say that nothing has changed …
The Things We've Been Through – Looking back, I'm amazed …
Forty-Nine – Another drop in life's great sea …
Fleeting – I'm writing these words without too much to say …
Life in Transit – Life is lived in the in-between, in transit between coming and going …
Generation Found – Once I was a soldier boy – now I'm shooting hoops; I'm not the generation lost …
We Rise, We Shine (In Memoriam: Maya Angelou, 1928-2014) – When giants fall …
Thirty Four – Thirty four today and I'm beginning to understand how life creeps up on you ..
Roots in the Skies (Madagascar) – Last night I dreamed of a planet where more hides than can ever be seen …
He Lived Among Us (Tribute to Nelson Mandela, 1918-2013) – This child named Rolihlahla …
Land of Emerald Dreams (Swellendam, South Africa) – Low clouds of grey left far behind …
Thirty Five – Thirty five and still alive, learning all over how to survive …
Poem for New Year – The year is new, poised and expectant …
I Wish She'd Stayed (In Memoriam: Karen Weinberg) – She made me laugh – let's start with that …
Grief – I have no way to know your grief, no salve of rhyme to bring relief …
Gorky Park (Moscow, Russia) – A summer day in Gorky Park, the world is freshly green and bright …
The Barefoot Don (Tribute to Manfred Max-Neef) – He walks the mountains, plains and fields …
Thirty Six – I am thirty six and in one long short year, my world has changed …
Genesis Islands (Galapagos, Ecuador) – Genesis islands, straddling Hades and Eden …
Marie's Poem (Written for Marie Steyn) – I know a special lady and you may know her too …
The End – In the end, life is cruel. It takes too much, too soon. It gives too little …
The Dragon on the Phoenix (China) – You are the mighty dragon …
Thirty Seven – This moment is marked on my journey of days …
This Day (Commemorating Barack Obama's 2009 Inauguration) – This day is not just any day …
Lasso Poet (Written about Wendy Cope) – I've met a poet or two, while tucked under the covers …
Cove of the Caspian (Baku, Azerbaijan) – The scattered seeds of history lie buried in the desert shade …
Thirty Eight – A lifetime lived in just one year, at least that's how it seems …
Renaissance Man (Tribute to Leonardo Da Vinci) – Born on a Saturday, third hour of night …
A Promise of New Worlds – The journeys we plan, the trips we make …
Gone Too Soon (In Memoriam: Margaret Legum) – Like a raven in the night, you've taken flight …
Loss – It is loss (as much as gain) that binds us. It is pain (as much as joy) that joins …
Thirty Nine – As markets crashed and wild fires spread,  fresh waves of doubt …
A Tale of Two Cities (Mannheim, Germany) – A modern city by the river – The brochure purred enticingly …
Dream-Shaper (Tribute to Antoni Gaudí) – The very first glance took my breath away …
Tide of White (Edinburgh, Scotland) – …. The peaceful fight, coming, ready or not, lest Africa's forgot …
Forty – What a year! Oh, what a year! Around the block, around the bend …
Shining (Tribute to Hugh Masekela) – smooth silky sounds shuffling and sliding shape-shifting …
Eternal City (Rome, Italy) – Ancient playground of gods, fertile seedbed of legends …
Tell Me Your Story (Tribute to Jeanette Hilda Visser) – … About higher souls and chosen roles …
Forty One – Another bumpy trip around the chunky sun …
Transatlantic Pilgrims (California, Arizona & Nevada, USA) – We set out for adventure …
Good to Say Goodbye – It's good to say goodbye – when you know that it's not forever …
Stranger – How strange to knock upon the door of a place I'd known long years before …
Forty Two – It was the year that rocked with the shock of the stopping clock …
The Highwaymen – I catch glimpses of them sometimes – the shadow people …
Nexus (Johannesburg, South Africa) – Scattered rays of light converge, rainbow people meet and merge …
I See You Clearly (In Memoriam: Bob Steyn) – … Framed with humble grey suit …
Empty Spaces – … Left behind, silent paces without rhyme, painful traces to remind …
Forty Three – It was the year of Bordeaux cheese fondue and St Emilion's catacomb …
The Day the World Changed (New York, USA) – One fateful hour of horror! …
Love and Blessings – … on this day, the long dark night has warmed to light …
A Place to Bury Your Heart (Romania) – The towering city tumbles easily into village and field …
Gran – My memories of childhood drift, like lazy clouds across a blue African sky …
Forty Four – I rise to greet the day on condor wings …
Orbits – For scarce hours, friendly and warm, like the smoulder of a wood-burning stove …
Building Stone Upon Stone (Scotland and Ireland) – For many moons have gathered now …
Footprints – Laughing, smiling, making jokes, dreams, desires, fleeting hopes …
Love the Landscape of Your Life –  … it is shaped for you alone, trust the terrain on which you tread …
Forty Five – The turn of the seasons, the loop of the sun, another year over, another begun …
Live 8 Rap – It's not too late to join Live 8, to change the fate of billions of poor, to do more …
Birthday Train – Throw your hands up in the air, run around without a care …
Birthday Truck – Jump and dance and roll your eyes, chase the garden flutterbys …
Blurred Vision – It was just a glimpse at first, but enough to look twice …
Babies Bounce – … their laughter is lighter than air, their dreams as high as the sky …
Fractal Faces – I see the world in your face – the echoes of your homeland …
'Tis the Season – Another cosy Christmas spent, another year, how quick it went …
Cherry Hinton Days – One day, I expect, we'll look back and smile …
My Father's Son – We've come a great long way together …
The Migrant's Lament – I am the crosser of borders, I am the sailor of seas …
Forty Eight – That time of year has come again to mark the page with ink and pen …
Explore Other Collections