Book of Nature Poems
The poems below are part of the collected work by Dr Wayne Visser: Wishing Leaves: Favourite Nature Poems.
Wishing Leaves: Favourite Nature Poems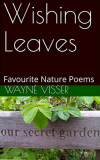 This creative collection, now in its 3rd edition, brings together nature poems by Wayne Visser, celebrating the diversity, beauty and ever-changing moods of our planet. The anthology includes many old favourites like "I Think I Was a Tree Once" and "A Bug's Life", as well as brand new poems like "Monet's Dream" and "The Environmentalist". Then as we turned our faces to the moon / Our hands entwined, our hearts in sync, in tune / We felt the fingers of the silken breeze / And made our wishes on the falling leaves / A gust of wind set off a whispered sigh / Among the trees that leaned against the sky.  Buy the paper book / Buy the e-book.
Poems
Nature Positive – I'm thinking it's not too late, that our fate is not sealed …
Letter to Earth – Dear Earth, I have some things I'd like to say …
The Great Outdoors – I always pause when "love of the great outdoors" is invoked …
A Butterfly Appeared – Yesterday, a butterfly appeared fluttering at my windowpane …
We Have Earth – Who needs heaven when we have skies …
On the Brink – It's true, our world is on the brink …
Nature Speaks – Our days are filled with vexing noise of chatter …
Healers of the Earth – Some may see a patch of dirt but you see so much more …
Because I Care – When I strike on the streets in mass protest …
Regeneration – The news is good (have you not heard?) …
This is the Place – … we dreamed of and we dreamed it into being …
Garden Wise – I'm learning how to plant new seeds …
Earth Affirmation – I am the rock, solid and silent, watching the wheeling stars …
The Elements – … combine to make the circle whole: the swirl of body, mind and soul …
Earth Spirit – … invoke that which moves and breathes and infuses all life …
Giving Up – I'm giving up – not on life, but on those actions that threaten life …
Nature's Embrace – Take me to the forests green, I need to feel their healing balm …
Tree Braille – I touch your living skin and feel the pulse of seasons …
Wishing Leaves – We sat upon the bench that autumn night …
I Think I Was A Tree Once – … a long, long time ago …
Kaleidoscope – Kaleidoscope colours carpet the ground …
A Future Worth Fighting For – "This is war!", so my son tells me …
Gentle Storm – Upon a clear and frosty autumn morn …
How the Mighty Have Fallen – All through the sapling days …
Grey and Gold – The paths are spread with carpets grey and gold …
Stone Walls – Tectonic forces heave and strain …
Monet's Dream – The leaves are falling to the ground …
Misty Woods – Shrouded trees and autumn mulch …
Earth Villanelle – Earth needs no saving by you or by me
Forest Invocation – The forests are burning, the skies filled with smoke …
Haiku on Beauty – Bare trees on still pond …
Ideas of Winter – Clouds drift in billowing embrace …
Come Rain Come – … Swirl with the mists of intrigue …
Fog – What was it about the fog that day that so enchanted me …
First Snow – It didn't snow on Christmas Day, no jingle bells nor Santa's sleigh …
Storm – Vapour clashes in the vortex, like brewing broth in cauldron black …
Winter Song – Crunching boots like music beat …
Rain – Before the rain: expectation hangs in the air …
Zen Garden – Still pond … mind reflects …
Giant White Hand – Between aspiring, cloud-laced mountain peaks …
Serenity – Calm turquoise waters and white tufted skies …
The Tree-Keepers – The other day, on Hampstead Heath …
Skylight – Sky of mauve, clouds alight …
Dawn – Sunrise scatters rays of dawn …
My Spring – My boots are thud, thud, thudding …
Daffodil – Rising from your winter sleep …
Garden of Hope – I remember so clearly the barren crater
Little Flower – Gorgeous little flower from far off distant shores …
I Am Ocean – i am wave, i am current, i am tide …
Trooping the Colour – There's a hidden army on the rise …
When the Lilies Bloom – Our Mother Earth, with flaming fever …
Witness to a Kill – I'm witness to a massacre – unwitting and unknowing …
A Bug's Life – If I could speak butterfly, I think that I would giggle …
Kingdom of Magic – Sacred world of fairies and elves …
Switch! (for Earth Hour) – Switch off the lights, turn off the plugs …
The Park – A time for reflecting and healing …
Summer Sunshine – The sun shone today and the whole world came out …
Dandelion – I've seen you in the pavement cracks …
Let Bells Ring Out – There are bells for weddings, bells for births …
Unwanted Gift – Water is a gift of life …
Thistle-Puffs – The thistle-puffs upon the gentle breeze …
Shapeshifting – A regal king with golden locks …
Fire Flood – Dewy drops of sun-soaked rays …
Oh, To Be A Cloud – … Adrift in deep blue skies …
Great Fathers of the Forest – Tall and noble you stand …
Still Pond – There is a secret place on Hampstead Heath …
The Spirit of Nature – The Nature of Spirit – In the flowers ….
The Waves – The waves, the waves are rolling in …
Earth, Air, Fire, Water – I am Earth – grounded and mounded …
Penguin Dream – Out of the dreamy ocean blue  …
Caged – An animal caged may be well cared for …
Lily of the Valley – I know a secret valley …
Blue Skies – When the skies are blue and the world is bright …
The River – Streams meet and join, then split apart …
Changing Light – The crisp mauve light of morning …
I Wish I Was Lost – … On a beach of golden sand …
Season of Loving – The seasons turn – nature enacts her ritual …
Only Natural – Is it spoiling a rose to breathe in its sweet scent …
Sliver of the Moon – Gone too soon, too soon gone …
The Harbour – Life's a great adventure – that's true …
Haiku 2 – Open petals glowing …
Haiku 3 – Twin swans, white as silk …
Safe Place – Now you're safe in your place and I'm safe in mine …
The Environmentalist – You call me an environmentalist, as if …
Nature Knows – When all the world seems upside down …
Spirit of the Mountain – We climb, but not because the mountain is there …
Explore Other Collections
African Dream: Inspiring Words and Images from the Luminous Continent