This track is embedded with the friendly permission by the creatives on
wikiloops.com
.
Nature Speaks
Our days are filled with vexing noise
Of chatter that doesn't matter
Of news that makes us lose our poise
A cacophony of clatter
Yet underneath the fuzz and buzz
Listen for a pitter patter
Of tiny feet or falling rain
Of eyes that blink and batter
For nature speaks in dulcet tones
In whispered sighs upon the breeze
In songs that echo in our bones
And secrets swirling through the seas
She speaks in tacit clues and codes
For nature likes to taunt and tease
She speaks with pulsing fungal webs
Through elephants and trees
Our days are filled with chance and choice
With sounds of seasons passing by
And every moment has a voice
A susurration or a cry
For nature speaks with endless tongues
That teach us how to fail and fly
Each lesson holds a vital kōan
For how we live our life and why
Wayne Visser © 2022
Book
Wishing Leaves: Favourite Nature Poems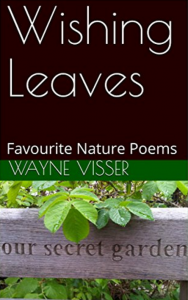 This creative collection, now in its 3rd edition, brings together nature poems by Wayne Visser, celebrating the diversity, beauty and ever-changing moods of our planet. The anthology includes many old favourites like "I Think I Was a Tree Once" and "A Bug's Life", as well as brand new poems like "Monet's Dream" and "The Environmentalist". Then as we turned our faces to the moon / Our hands entwined, our hearts in sync, in tune / We felt the fingers of the silken breeze / And made our wishes on the falling leaves / A gust of wind set off a whispered sigh / Among the trees that leaned against the sky. Buy the paper book / Buy the e-book.