Book of Philosophical Poems
The poems below are part of the collected work by Dr Wayne Visser: String, Donuts, Bubbles and Me: Favourite Philosophical Poems.
String, Donuts, Bubbles and Me: Favourite Philosophical Poems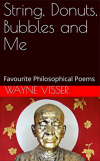 This creative collection, now in its 3rd edition, brings together philosophical poems by Wayne Visser. In this anthology, he muses on subjects ranging from space, angels and destiny to time, science and meaning in life. According to scientists / The world's made of string / That buzzes and fuzzes / Or some such strange thing / It's also a donut / That curls round a hole / With middles and riddles / Just like a fish bowl / And there's no mistaking / It's more than 3-D / With twenty or plenty / Dimensions unseen / Still others insist / It's really a bubble / That's popping and bopping / Through the lenses of Hubble. Buy the paper book / Buy the e-book.
Poems
This Is The Way – No matter what you do or say …
And We Grow – Life is full of twists and turns …
Not What You See – I am not what you see, whether ugly or beautiful …
The Stoic – I am a stoic but that does not mean that I deny life's pleasures
Sculpted Life, Crafted Love – Each life is like a block of stone …
Connected – In life we form a complex web of patterns always shifting …
Slow Time – We're marching in slow time, in nowhere to go time …
A Swirling Story – Don't ever underestimate the power of stories …
In the Game – Every day, you're in the game, you're dodging and dribbling …
In the Margins – When the story of my life is writ …
Next – You never know what's coming next, around the corner …
A Poem – A poem's the sound we hear when words go out to play …
In the Mind – When this great race of life is run …
Spirited Away – One fine day, I'll let myself be spirited away …
Home – Home is the centre of love that we create with and for each other …
Your Mission – … In this short, sacred life is to discover your voice …
Patient Dreams – I wish you all the best in life, through seasons and extremes …
Lost Key – It was just a glimpse, a glint in the sun …
Keys to the Maze – Upon the path of life's great maze surprises lurk around each bend …
String, Donuts, Bubbles and Me – According to scientists, the world's made of string …
Cracked Pavements – The pavement blocks are neatly square, yet sometimes cracks appear …
Life's Dream – Life's a dream, it seems to me in which we choose our destiny …
She: Light, He: Dark – In the dark, there is she, she is the light …
Un-Doing – I know I can and yet I don't …
What Dreams May Come – What cosmos reflected, what masks may change …
Quest Divine – A word, a phrase … I catch my breath …
All the Clocks – All the clocks are running down …
Like Children – Like children in a play-pen, on and on we play …
Wheel of Fate – We set the wheel of fate in motion …
Casino Life – Some say that life's a gamble …
Flame of the Spirit – Seminal spark in the vast void of nothingness …
Castles – Castles built on sand soon crumble …
Tree of Life – Original seed in the womb of mother earth …
Possibility – Could it be reality is not a lot of what there is to see? …
Musings on Morphic Time – In ages past we have mapped the skies …
Life Scribes – A fresh sunrise, a blank white page …
Real Magic – I know some real magicians, the living, laughing kind …
Song of the Stars – What note am I? What transcendent tone …
Synchronicity – Can you read the signs along the humming highways …
Under-Rated Pleasures – In life there are so many under-rated pleasures …
Riddle 1 – What: Keeps forever but is over in an instant? …
Scattered Books – I am single minded among my scattered books …
Ghosts – We all have our ghosts – ethereal presences that linger …
Confusion – Our confusion is the intrusion of illusion …
Ground Rules – Ground rules are the guidelines shouted from the side-lines …
Illusions – Our beliefs stretch as far as we take them …
Riddle 2 – What: Holds tight as much as it lets go? …
Bits and Pieces – Hidden in drawers are pathways and doors …
Abbr. – midst techno-bustle & market hustle …
Lost and Found – When I'm lost for words, I find my true voice …
Mirror, Mirror – Mirror, mirror, on the wall, looking proud and standing tall …
Angels – I believe in angels, but I don't think they have wings …
Wrapped in Words – wrapped in words and tied with rhyme …
Heaven – Where is heaven? Is it some place far …
Invisible – I am invisible, hidden, unseen …
Names – … are tangled pathways to meaning and secret tunnels …
Space – Swirling with stars and galaxies, pulsing with planets and nebulae …
This is My Life – Like whispers in the trees and swirling gusts of leaves …
Poised – The pen, poised over a virgin page …
All Seems – All seems to spin, now I lose, now I win …
The High Wire – Can we dismantle a fortress from within? …
Invocation – May you always walk on the path of wisdom …
Wheel of Life – … ever turning, onward inward listening learning …
Awake – The darkness comes, I close my eyes …
Ever? – Ever been amidst a crowd and felt you were alone? …
Presence – Presence within me, I'm a seeker of your face …
Y2K – The lure of nought, of nothing, of null  …
Spellbound – Countless clocks count down …
Infusion – You infuse my mind – with poignant truths …
Caravan of Hope – They have no home other than the endless road …
Wish Upon a Star – One day I'll wish upon a star and see you shining …
New Beginnings – Thank God for new beginnings …
To Live Is To Have Tried – For some the load is heavy, others' tread is light …
Private Lives – Today my world is bright, I am celebrating …
An Extra Ordinary Day – What would an ordinary day be like …
Sometimes – Sometimes, we can only sigh, to express the way we feel …
Words – Words, once spoken, have a life of their own …
Sad Day – I never knew her, so why did it hurt to suddenly know …
Cry – Parched emotions, cracked and dry …
Bridges – A bridge across time, through music and rhyme …
T*B*L*F – Truth is the bedrock on which to build …
Vortex – Spinning tops and turning wheels …
Deep Thoughts – … and shallow fears, begin with frowns and end in tears …
Sleepless Nights – For tortured days and sleepless nights …
Friends – My life's encircled by my friends, a cherished ring …
Lived Life True – What wise words can I give to you young one …
Though You Are Gone – …  there still always will be: an ache …
Wheel-Trap – The questions in the wheel-trap of my mind spin round …
Time Takes Its Toll –  … on dancing feet that start to plod …
Complicated – … does life get simpler and love more complicated …
Stone in My Shoe – You're the surf in my tide, the thorn in my side …
Friends Are Like Mirrors – … in which are reflected our face without masks …
We Could – … but what about consequences? I've thought about it …
One True Light – The world shook and I felt the tremor …
No War! – Don't speak to me of holy wars, of martyrdom and sacrifice …
Secret of Success – You say you want to know (and others too) …
Yesterday, Today, Tomorrow – Yesterday I was muddled and cuddled ….
The Edge – The world is round, until we walk right off the edge …
Message in a Bottle – These crumpled words adrift in time …
#socialMEdia – Tell me, do you Like me? Please answer quick …
What Lies Beneath – You see me – and seeing, you think that you know me …
Explore Other Collections