Looking back, I'm amazed
At the things we've been through
At each step, how we've blazed
A new trail made for two
How we've travelled up mountains
To temples and streams
Across beaches, to fountains
Through forests of dreams
All the things we've been through
In all kinds of foul weather
When the pandemic grew:
Isolation together!
How we've worked on the move
Found a beautiful home
How we've danced to the groove
Of the places we roam
When we fell or we flew
Nearly drowning at sea
All the things we've been through
Showed us what we can be
As we've wended our ways
How our love has stayed true
Looking back through the maze
At the things we've been through
Wayne Visser © 2020
Book
Life in Transit: Favourite Travel & Tribute Poems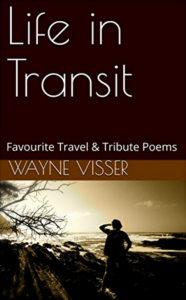 This creative collection, now in its 2nd edition, brings together travel and tribute poems by Wayne Visser. The anthology pays tribute to the likes of Nelson Mandela, Maya Angelou, Barack Obama, Antoni Gaudí & Leonardo da Vinci, and reflects on travels ranging from China and South Africa to Ecuador and Russia. Life is lived in the in-between / In transit / Between coming and going / Between staying and moving on / Between here and there / And what we call home / What we call settled or contented / Is merely a resting place / A station for refuelling / A nexus for reconnecting / A junction for changing direction. Buy the paper book / Buy the e-book.