I waited
I was there
Searching the faces
There in the bookshop
But she did not come today
I know because I looked for her
Expecting to recognise her
Any moment to find her
But it was not to be
Maybe next time
But not today
Not today
I wonder
Could it be
She was waylaid –
Missed the train or bus
Bumped into an old friend
Went back to check on the stove
Was she running a little late
Did she arrive after I left
I guess it could happen
So maybe next week
Just not today
Not today
I wonder
If she waited too
If she looked for me
And thought I didn't come
That I somehow got the date wrong
Did she sigh over her latte and books
And search among mystery faces
Wishing Neruda's poetry to life
Until the realisation dawned
That time is out of sync
And it's not today
It's not today
We met
Just the once
And now I wonder
If she even remembers the time
The night she visited in my dream
The way we saw each other and knew
Knew that we had come home
And I woke with an aching
With a deep sad longing
To find her once again
So why not today?
Why not today?
Of course
I will return
And I will wait
And I will keep looking
Among the pages and words
Searching for her beautiful face
In the bookshop of our destiny
Calling out her silent name
Imagining our meeting
Even if not today
Then very soon
If not today
Wayne Visser © 2017
Book
Seize the Day: Favourite Inspirational Poems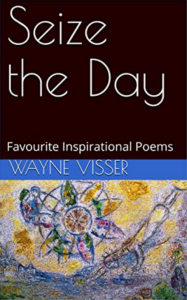 This creative collection, now in its 3rd edition, brings together favourite inspirational poems by Wayne Visser. The anthology takes us on a journey through the peaks and troughs of life, celebrating the indomitable human spirit.. It includes many old favourites like "Poets Must Be" and "Chasing the Blue", as well as brand new poems like "The Writer" and "Making Ripples". Sages through the ages wisely say: / Carpe Diem – seize the dawning day / Oh, would that I could assuage that thirst / But the day conspires to seize me first! / With the hurry and scurry / Of home's frantic flurry / And the hustle and bustle / Of work's tangled tussle. Buy the paper book / Buy the e-book.