Note: A sangoma is an African shaman, a traditional Zulu healer
There's a sangoma in our closet
At the office beneath the stair
Most think that she's a little crazy
Taking daily refuge there
They see her through their bias:
The 'girl' who makes us tea
The messenger, the general help –
Why, who else could she be?
There's a sangoma in our closet
But no one seems to care
In ignorance they shake their heads
They smile, try not to stare
Their arrogance has blinded them
To her secret, sacred role:
Revered within her community
As a doctor of the soul
There's a sangoma in our closet
Whose beliefs we'll never share
Schooled in ancient mystic lore
In magic foul and fair
Around her neck is loosely strung
Symbolic beads and string
An initiate in ways of power –
To dance, divine and sing
There's a sangoma in our closet,
A sight both strange and rare
In semi-dark she conjures dreams
And whispers words of prayer
She listens as her ancestors
Give counsel true and wise
She contemplates life's mysteries
Not least her divergent lives
Wayne Visser © 2017
Book
I Am An African: Favourite Africa Poems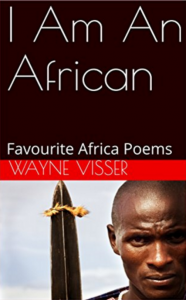 This creative collection, now in its 5th edition, brings together Africa poems by Wayne Visser, including the ever popular "I Am An African", as well as old favourites like "Women of Africa", "I Know A Place in Africa", "Prayer for Africa" and "African Dream". The anthology celebrates the luminous continent and its rainbow people. The updated 5th Edition includes new poems like "Africa Untamed" and "Land of the Sun". Buy the paper book / Buy the e-book.