The Call to Responsibility:
Our Ability to Respond
Chapter by Wayne Visser
Extract from The Age of Responsibility
Quotes
We have the Bill of Rights. What we need is a Bill of Responsibilities. —Bill Maher
It is easy to dodge our responsibilities, but we cannot dodge the consequences of dodging our responsibilities. —Josiah Charles Stamp
Let everyone sweep in front of his own door, and the whole world will be clean. —JohannWolfgang von Goethe
In times like these men should utter nothing for which they would not be willingly responsible through time and in eternity. —Abraham Lincoln
The Meaning of Responsibility
Do you sigh when you hear the word responsibility? Perhaps responsibility is even a dirty word in your vocabulary. Perhaps you associate it with burdens and restrictions; the opposite of being carefree and without obligations. But responsibility doesn't have to be a chore, or a cage. It all depends how you think about it.
Responsibility is literally what it says – our ability to respond. It is a choice we make – whether to be attentive to our children's needs, whether to be mindful of the plight of those less fortunate, whether to be considerate of the impact we have on the earth and others. To be responsible is to be proactive in the world, to be sensitive to the interconnections, and to be willing to do something constructive, as a way of giving back.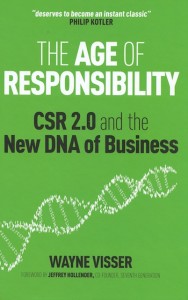 If we expect the right to fair treatment, we have a responsibility to respect the rule of law and honour the principle of reciprocity. If we believe in the right to have our basic needs met, we have the responsibility to respond when poverty denies those rights to others.
Taking responsibility, at home or in the workplace, is an expression of confidence in our own abilities, a chance to test our own limits, to challenge ourselves and to see how far we can go. Responsibility is the gateway to achievement. And achievement is the path to growth. Being responsible for something means that we are entrusted with realising its potential, turning its promise into reality. We are the magicians of manifestation, ready to prove to ourselves and to others what can happen when we put our minds to it, if we focus our energies and concentrate our efforts.
Being responsible for someone – another person – is an even greater privilege, for it means that we are embracing our role as caregivers, helping others to develop and flourish. This is an awesome responsibility, in the truest sense, one which should be embraced with gratitude, not reluctantly accepted with trepidation. Responsibility asks no more of us than that we try our best, that we act in the highest and truest way we know. Responsibility is not a guarantee of success, but a commitment to trying.
So why is responsibility seen by many as such an onerous burden? …
Continue reading
[button size="small" color="blue" style="download" new_window="false" link="http://www.waynevisser.com/wp-content/uploads/2012/03/book_aor_chap1.pdf"]Pdf[/button] The Call to Responsibility (chapter)
Related pages
[button size="small" color="blue" style="info" new_window="false" link="http://www.waynevisser.com/books/the-age-of-responsibility"]Page[/button] The Age of Responsibility (book)
Cite this chapter
Visser, W. (2011) The Call to Responsibility: Our Ability to Respond, In W. Visser, The Age of Responsibility: CSR 2.0 and the New DNA of Business, London: Wiley.
Share this page