CSR 2.0:
Evolution and Revolution
Chapter by Wayne Visser
Extract from Responsible Business
The Rise and Fall of CSR
Corporate social responsibility (CSR) has been debated and practiced in one form or another for more than 4,000 years. For example, the ancient Vedic and Sutra texts of Hinduism and the Jatakas of Buddhism include ethical admonitions on usury (the charging of excessive interest) and Islam has long advocated Zakat, or a wealth taxi.
The modern concept of CSR can be more clearly traced to the mid-to-late 1800s, with industrialists like John H. Patterson of National Cash Register seeding the industrial welfare movement and philanthropists like John D. Rockerfeller setting a charitable precedent that we see echoed more than a hundred years later with the likes of Bill Gatesii.
Despite these early variations, CSR only entered the popular lexicon in the 1950s with R. Bowen's landmark book, Social Responsibilities of the Businessmaniii. The concept was challenged and strengthened in the 1960s with the birth of the environmental movement, following Rachel Carson's critique of the chemicals industry in Silent Springiv, and the consumer movement off the back of Ralph Nader's social activism, most famously over General Motors's safety recordv.
The 1970s saw the first widely accepted definition of CSR emerge – Archie Carroll's 4-part concept of economic, legal, ethical and philanthropic responsibilities, later depicted as a CSR pyramidvi – as well as the first CSR code, the Sullivan Principles. The 1980s brought the application of quality management to occupational health and safety and the introduction of CSR codes like Responsible Care.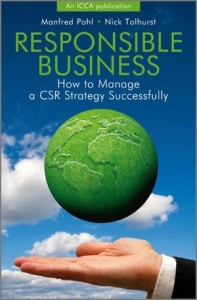 In the 1990s, CSR was institutionalised with standards like ISO 14001 and SA 8000, guidelines like GRI and corporate governance codes like Cadbury and King. The 21st century has been mostly more of the same, spawning a plethora of CSR guidelines, codes and standards (there are more than 100 listed in The A to Z of Corporate Social Responsibility), with industry sector and climate change variations on the theme.
Why is all this potted history of CSR important in a discussion about the future? Well, first, it is to realise that CSR is a dynamic movement that has been evolving over decades, if not centuries. But second, and perhaps more importantly, it is to acknowledge that, despite this seemingly impressive steady march of progress, CSR has failed. Furthermore, we are witnessing the decline of CSR, which will continue until its natural death, unless it is reborn and rejuvenated.
That is a bold claim, so it deserves substantiation. CSR has undoubtedly had many positive impacts, for communities and the environment. Yet, its success or failure should be judged in the context of the total impacts of business on society and the planet. Viewed this way, on virtually every measure of social, ecological and ethical performance we have available, the negative impacts of business have been an unmitigated disaster, which CSR has completely failed to avert or even substantially moderate.
A few facts will suffice to make the point …
Continue reading
[button size="small" color="blue" style="download" new_window="false" link="http://www.waynevisser.com/wp-content/uploads/2012/04/chapter_wvisser_csr_2_0.pdf"]Pdf[/button] CSR 2.0: Evolution and Revolution (chapter)
Related pages
[button size="small" color="blue" style="info" new_window="false" link="http://www.waynevisser.com/books/the-age-of-responsibility"]Page[/button] The Age of Responsibility (book)
Cite this chapter
Visser, W. (2010) CSR 2.0: The Evolution and Revolution of Corporate Social Responsibility, In M. Pohl & N. Tolhurst (eds.), Responsible Business: How to Manage a CSR Strategy Successfully. Wiley.
Share this page