One fine day, I'll let myself be
Spirited away, to a world yet unseen
In the grey, the mist of a dream
Where sprites play and nature nymphs stream
Amidst the spray of waterfalls and green
Forests, a ray of sunshine, a beam
Of light, a stray path in between.
One day soon, I'll let myself go
To the moon, to the stars that glow
Like the bloom of ideas, the flow
Of a tune of memories that grow
And then swoon, like the winds blow
Across the dun and the swirling snow
Paints a plume on skies I used to know
One dark night, I'll let myself fly
Out of sight, out of mind, with a sigh
I'll take flight, let loose every tie
Every plight that weighs and asks why
Every fight won or lost, on a high
Of pure light, I'll laugh and I'll cry
With delight, I'll be spirited away by and by
Wayne Visser © 2020
Book
String, Donuts, Bubbles and Me: Favourite Philosophical Poems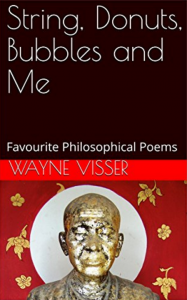 This creative collection, now in its 3rd edition, brings together philosophical poems by Wayne Visser. In this anthology, he muses on subjects ranging from space, angels and destiny to time, science and meaning in life. According to scientists / The world's made of string / That buzzes and fuzzes / Or some such strange thing / It's also a donut / That curls round a hole / With middles and riddles / Just like a fish bowl / And there's no mistaking / It's more than 3-D / With twenty or plenty / Dimensions unseen / Still others insist / It's really a bubble / That's popping and bopping / Through the lenses of Hubble. Buy the paper book / Buy the e-book.