Tribute to Robben Island
If these stones could whisper, what secrets would they tell?
Would it be of aeons past, when all the sky was fiery rain
And lava flowed and rock congealed to sculpt this coastal plain?
Or would they speak of great divide, when land was rent asunder
By tidal waves and raging winds and peals of angry thunder?
If these stones could whisper, what beginnings would they remember?
Would they recall the first cry of Man, still a babe within the cradle
Or the eager infant with bow and arrow, destined to become a fable?
Would they smile at the restless child who set down roots to grow
To write and read, to build and shape, to plant and reap and sow?
If these stones could whisper, what chronicles would they recount?
Would it be the rebellious years, when teen-Man sought to spread his wings
Those tempestuous times of selfish pride, of war and slaves and kings?
Or is the memory still fresh with more recent tragic days
When naïve young adult siblings chose the path of separate ways?
If these stones could whisper, what stories would they share?
Would it be of island tales, of untamed wilds and virgin sand
Of merchants from across the bay who scavenged rocks and mined the land?
What of disfigured outcasts to whom the world was blind
Quarantined for their unsightliness, disowned by their own kind?
If these stones could whisper, what memories would haunt them still?
Would it be of humans in cages, accused of heinous crime
Or justice vigilantes condemned to blinding quarries of lime?
How painful the sight of jailors with minds under lock and key?
How hopeful the salve of forgiveness, the long walk to make them free?
If these stones could whisper, what triumph would they exclaim?
Would it be of a brand new dawn, when the island became a bridge
A sanctuary, a learning place, for the world an inspiring image?
The stones echo with silence, mute with wisdom that time beget
But if these stones could whisper, they'd say: always forgive, never forget
Wayne Visser © 2017
Book
I Am An African: Favourite Africa Poems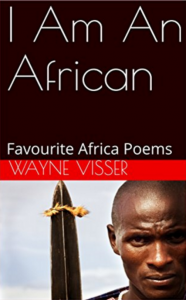 This creative collection, now in its 5th edition, brings together Africa poems by Wayne Visser, including the ever popular "I Am An African", as well as old favourites like "Women of Africa", "I Know A Place in Africa", "Prayer for Africa" and "African Dream". The anthology celebrates the luminous continent and its rainbow people. The updated 5th Edition includes new poems like "Africa Untamed" and "Land of the Sun". Buy the paper book / Buy the e-book.