I am an African
Not because I was born there
But because my heart beats with Africa's
I am an African
Not because my skin is black
But because my mind is engaged by Africa
I am an African
Not because I live on its soil
But because my soul is at home in Africa
When Africa weeps for her children
My cheeks are stained with tears
When Africa honours her elders
My head is bowed in respect
When Africa mourns for her victims
My hands are joined in prayer
When Africa celebrates her triumphs
My feet are alive with dancing
I am an African
For her blue skies take my breath away
And my hope for the future is bright
I am an African
For her people greet me as family
And teach me the meaning of community
I am an African
For her wildness quenches my spirit
And brings me closer to the source of life
When the music of Africa beats in the wind
My blood pulses to its rhythm
And I become the essence of sound
When the colours of Africa dazzle in the sun
My senses drink in its rainbow
And I become the palette of nature
When the stories of Africa echo round the fire
My feet walk in its pathways
And I become the footprints of history
I am an African
Because she is the cradle of our birth
And nurtures an ancient wisdom
I am an African
Because she lives in the world's shadow
And bursts with a radiant luminosity
I am an African
Because she is the land of tomorrow
And I recognise her gifts as sacred
Wayne Visser © 2005
Videos
Words and Music
Words of the poem, set to music by Hans Zimmer from The Power of One
Author Reading
The poem read by the author
Literacy Project
Kids from Upendo Middle Primary School in Usa River Tanzania read the poem. Upendo Middle Primary recently received 60 Kindle E-readers as Worldreader's first e-reader project in Tanzania. A partnership between AfricAid and Thanks Be to God Foundation helped make this project a success.
Book
I Am An African: Favourite Africa Poems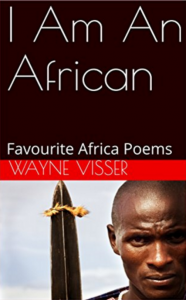 This creative collection, now in its 5th edition, brings together Africa poems by Wayne Visser, including the ever popular "I Am An African", as well as old favourites like "Women of Africa", "I Know A Place in Africa", "Prayer for Africa" and "African Dream". The anthology celebrates the luminous continent and its rainbow people. The updated 5th Edition includes new poems like "Africa Untamed" and "Land of the Sun". Buy the paper book / Buy the e-book.