What if the home that you've been making
And the smile that you've been faking
Have left you lost in space
Feeling anything but free?
Will you let go of the past
To reveal your fate at last
And will you rise to meet the tide
To restore your inner pride?
What if the bread that you've been breaking
And the hands that you've been shaking
Have brought you face to face
With your own worst enemy?
Will you open up your mind
To accept the worlds you find?
And will you let yourself forgive
To restore your zest to live?
What if the dream that you've been shaping
And the path that you've been taking
Have brought you to a place
That is neither land nor sea?
Will you find it in your heart
To make a fresh new start?
And will you stretch your very soul
To reach that higher goal?
Wayne Visser © 2017
Book
Seize the Day: Favourite Inspirational Poems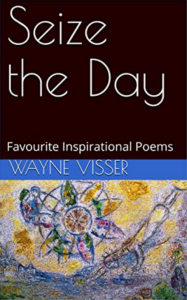 This creative collection, now in its 3rd edition, brings together favourite inspirational poems by Wayne Visser. The anthology takes us on a journey through the peaks and troughs of life, celebrating the indomitable human spirit.. It includes many old favourites like "Poets Must Be" and "Chasing the Blue", as well as brand new poems like "The Writer" and "Making Ripples". Sages through the ages wisely say: / Carpe Diem – seize the dawning day / Oh, would that I could assuage that thirst / But the day conspires to seize me first! / With the hurry and scurry / Of home's frantic flurry / And the hustle and bustle / Of work's tangled tussle. Buy the paper book / Buy the e-book.