Truth or dare? I hear you say
With impish smile and raised eyebrow
Don't be scared, it's just a game
So be a devil, live for now
Could I refuse? I'm asking you
With tongue in cheek and rolling eyes
For win or lose, you always knew
That I'd be tempted by the prize
Confession was my coward's choice
I swore that I would speak what's true
And so you asked in husky voice:
If I were bound, what would you do?
The image flashed across my mind
A rush of blood made it seem real
The silk and ice, your spanked behind
And pleasures that the fridge concealed
Was that a smirk? It's hard to tell
For still you chose the daring route
I sought my fantasies to quell:
I dared you to a photo shoot
Did you blink? Or even blush
As you began to smile and pose
Then sensually and without rush
One by one removed your clothes
I like to think it was a game
Where we both won and no one lost
For though it kindled a small flame
We never had to count the cost
The embers glow in friendship now
As with each day we trust and share
Yet still we're bound to live our vow
To tell the truth and bravely dare
Wayne Visser © 2017
Book
Icarus: Favourite Love Poems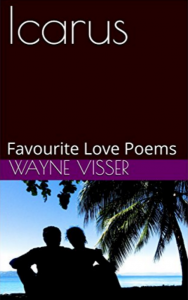 This creative collection, now in its 2nd edition, brings together love poems by Wayne Visser. The anthology traces love's agony ("Broken Dreams") and ecstasy ("Galaxies Cart-Wheeling"), from first blush ("Almost Strangers") to full bloom ("Say 'I Do!'"), as we fly to love. You've given me the gift of golden wings / The endless sphere of blue imaginings / The chance to rise above the silver clouds / The will to cast off untold ghostly shrouds / Don't fly too high / Don't rise too fast / Don't tease the sky / Don't taunt the past / You've given me the hope of warmer days / The blessed kiss of the sun's fiery rays. Buy the paper book / Buy the e-book.