The other day, on Hampstead Heath
While mist lay shrouded like a wreath
I chanced upon some tree-keepers
With leaves above and mulch beneath
Now tree-keepers, I must explain,
Are much the same as bee-keepers –
Though less about the drowsy smoke
And more about the high-slung rope;
Less about the honey wax
And more about the pruning axe;
Less about the buzzing bees
And more about the tufted trees –
So … not so much, it must be said,
Like bee-keepers at all.
But tree-keepers, I will admit,
Are almost like chimney-sweepers –
Just less about the charcoal dust
And more about the leafy rust;
Less about the fiery chutes
And more about the twisted roots;
Less about the blackened bricks
And more about the wayward sticks –
So … not so much, in actual fact,
Like chimney-sweepers at all.
Still, tree-keepers, I'm sure it's true,
Are pretty much like fire-eaters –
But less about the searing spark
And more about the ailing bark;
Less about the showmanship
And more about the budding slip;
Less about the more absurd
And more about the nesting bird –
So … not so much, if truth be told,
Like fire-eaters at all.
In actual fact, the tree-keepers
Are nothing like the night-sleepers
Or keyhole-peepers or canyon-leapers;
Not a bit like money cheaters
Or egg-white-beaters or candy-treaters;
Not even like crawly-creepers,
Let alone grim-hooded-reapers –
No … not so much, despite their rhyme,
Like any '–eepers' after all.
Rather, those strangers on that day
On Hampstead Heath, I'd have to say,
Were nothing more and nothing less
Than keepers of wise Nature's way.
Wayne Visser © 2011
Book
Wishing Leaves: Favourite Nature Poems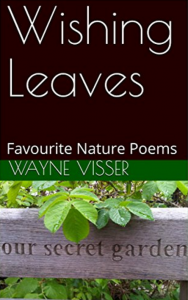 This creative collection, now in its 3rd edition, brings together nature poems by Wayne Visser, celebrating the diversity, beauty and ever-changing moods of our planet. The anthology includes many old favourites like "I Think I Was a Tree Once" and "A Bug's Life", as well as brand new poems like "Monet's Dream" and "The Environmentalist". Then as we turned our faces to the moon / Our hands entwined, our hearts in sync, in tune / We felt the fingers of the silken breeze / And made our wishes on the falling leaves / A gust of wind set off a whispered sigh / Among the trees that leaned against the sky.  Buy the paper book / Buy the e-book.