A Tribute to Tanzania
Jambo!
Greetings from Dar Es Salaam:
Eternal harbour of peace.
Dusty roads and diesel fumes
Pungent fish and fragrant blooms
Cauldron markets, bubbling trade
Vibrant fabrics, crafts handmade
Karibu!
Welcome in Zanzibar:
Exotic island of spice.
Azure skies and brooding clouds
Baking sun and thunder shrouds
Coastal mangroves, palm-lined shores
Exotic spices, wood-carved doors
Rafiki!
Friend of Africa:
Continent of passion.
Shaking tops and swaying hips
Clapping hands and whistling lips
Frothing rhythms, stamping feet
Pulsing music, living beat
Kwaheri!
Farewell to Bagamoyo:
Place of crushed hearts.
Ancient merchants, trading routes
Bartered treasures, plundered loots
Faded portraits, shadowed past
Rusted shackles, free at last
Wayne Visser © 2017
Book
I Am An African: Favourite Africa Poems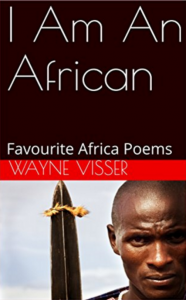 This creative collection, now in its 5th edition, brings together Africa poems by Wayne Visser, including the ever popular "I Am An African", as well as old favourites like "Women of Africa", "I Know A Place in Africa", "Prayer for Africa" and "African Dream". The anthology celebrates the luminous continent and its rainbow people. The updated 5th Edition includes new poems like "Africa Untamed" and "Land of the Sun". Buy the paper book / Buy the e-book.