The year is new
Poised
And expectant:
Like a spring coiled and ready to be sprung
Or a tangled ball of wool, come undone
Like a gleaming highway slick for smooth travel
Or a dusty footpath strewn with rough gravel
Poised
And expectant
The year is new:
Like a newborn lamb unsteady on its legs
Or a stale pot of coffee brewed from the dregs
Like stepping forward, each step like the last
Or leaping the nest, escaping the past
Poised
The year is new
And expectant:
Like a see-sawing scale, about to tip
Or a teetering cliff, afraid to slip
Like a snail slid across a line in the sand
Or the long thin finger of destiny's hand
The year is new
Poised
And expectant
Wayne Visser © 2017
Book
Life in Transit: Favourite Travel & Tribute Poems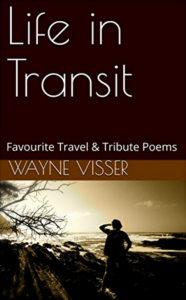 This creative collection, now in its 2nd edition, brings together travel and tribute poems by Wayne Visser. The anthology pays tribute to the likes of Nelson Mandela, Maya Angelou, Barack Obama, Antoni Gaudí & Leonardo da Vinci, and reflects on travels ranging from China and South Africa to Ecuador and Russia. Life is lived in the in-between / In transit / Between coming and going / Between staying and moving on / Between here and there / And what we call home / What we call settled or contented / Is merely a resting place / A station for refuelling / A nexus for reconnecting / A junction for changing direction. Buy the paper book / Buy the e-book.