A Tribute to Berend Visser (Dad)
We've come a great long way together
Upon the trail of father and son
We've chased the flight of Illusions' feather
And watched the swirling Tao stream run.
From cradling safety in your arms
To infant hugs down on the beach
And catapulting shoulder dives –
Your love was never out of reach.
Then as I grew from boy to man
You placed a compass in my hand –
A set of values and ideals
That point true North in every land.
I watched and learned, as patient deeds
Turned dreams into reality
You taught me that hard work and faith
Grow seeds defying gravity.
So many worlds we've seen together
So many things we've dared and done
I love you always and forever
I'm proud to be my father's son.
Wayne Visser © 2017
Book
Life in Transit: Favourite Travel & Tribute Poems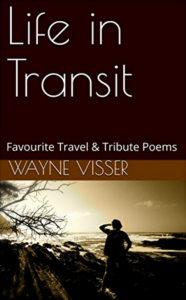 This creative collection, now in its 2nd edition, brings together travel and tribute poems by Wayne Visser. The anthology pays tribute to the likes of Nelson Mandela, Maya Angelou, Barack Obama, Antoni Gaudí & Leonardo da Vinci, and reflects on travels ranging from China and South Africa to Ecuador and Russia. Life is lived in the in-between / In transit / Between coming and going / Between staying and moving on / Between here and there / And what we call home / What we call settled or contented / Is merely a resting place / A station for refuelling / A nexus for reconnecting / A junction for changing direction. Buy the paper book / Buy the e-book.