I write my dreams in wisps of smoke
That swirl before the dawn;
And when I wake, my mind unblurs
To trace the edge of morn.
I rise with words, like tousled hair,
Still wild and unrestrained;
And when I brush them into place,
They fight to stay untamed.
Once at the gym, to treadmill beat,
Thoughts form and fall in line;
And when I stroke the cool blue lengths
The words swim laps in time.
Returning home, under the shower,
I write in jets of steam;
And after breakfast, at my desk,
I face a blinking screen.
I type one word – a secret key
Which opens many doors –
And gaze upon a sea of words:
An ocean spanning shores.
I dive into the frothy tides
With flailing, keyboard strokes;
And when I've splashed and made some waves,
Seek land before I choke.
I write day-dreams in digi-chrome
That spreads like inks that spill;
And when dusk falls, I find my words
Have travelled where they will.
I write my life in daily prose
That walks a winding road;
And as I write, my story springs
From mind-seeds I have sowed.
Wayne Visser © 2017
Book
Seize the Day: Favourite Inspirational Poems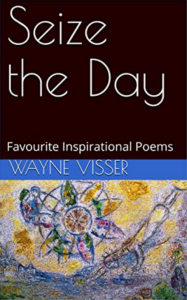 This creative collection, now in its 3rd edition, brings together favourite inspirational poems by Wayne Visser. The anthology takes us on a journey through the peaks and troughs of life, celebrating the indomitable human spirit.. It includes many old favourites like "Poets Must Be" and "Chasing the Blue", as well as brand new poems like "The Writer" and "Making Ripples". Sages through the ages wisely say: / Carpe Diem – seize the dawning day / Oh, would that I could assuage that thirst / But the day conspires to seize me first! / With the hurry and scurry / Of home's frantic flurry / And the hustle and bustle / Of work's tangled tussle. Buy the paper book / Buy the e-book.