I lie awake and hear your velvet sigh
Across the miles on breaths of midnight air
While blinking stars incant the question why:
Why I am here and you are over there?
I lie awake and see your Cheshire smile
Upon the iridescent wakeful moon
While time is morphed into a melting dial
That tricks and teases like an ancient rune
I lie awake and dream your phantom kiss
Between the sliding doors of mystery
While owls call out to serenade our bliss
And prophesise our echoed history
I lie awake and watch your phosphor glow
Upon the frothing of nocturnal tide
While slumber tussles from the undertow
And whispers: meet me on the other side
Wayne Visser © 2017
Book
Icarus: Favourite Love Poems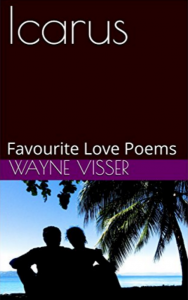 This creative collection, now in its 2nd edition, brings together love poems by Wayne Visser. The anthology traces love's agony ("Broken Dreams") and ecstasy ("Galaxies Cart-Wheeling"), from first blush ("Almost Strangers") to full bloom ("Say 'I Do!'"), as we fly to love. You've given me the gift of golden wings / The endless sphere of blue imaginings / The chance to rise above the silver clouds / The will to cast off untold ghostly shrouds / Don't fly too high / Don't rise too fast / Don't tease the sky / Don't taunt the past / You've given me the hope of warmer days / The blessed kiss of the sun's fiery rays. Buy the paper book / Buy the e-book.