You're gentle on my motley mind
Unexpectedly so
You're skipping through my dippy dreams
More than you'll ever know
You're tucked up in my hippy heart
In ways I cannot show
You're gentle on my mossy mind
Unquestionably so
I know I had to leave
Yet still I'm asking why
Was it the fear of waves?
The echo of the sky?
Did phantoms from the past
Cast shadows in my eye?
I know I had to leave
The question remains why?
You're bubbling up in spritely springs
Unpredictably stirred
You're trickling through in synchro songs
I scarcely knew I'd heard
You're sprouting in the cranial cracks
Of conversations blurred
You're bubbling up in sparkling springs
Undeniably stirred
I left you with no choice
With so much left to say
Did I kill the magic?
Did I darken the day?
Did I exit the wings
Three Acts into the play?
I left you with no choice
There's more I want to say
You're gentle on my moorless mind
Inexplicably so
You're twirling round my dappled dreams
And brightening as you go
You're locked safe in my happy heart
Until the day I show
You're gentle on my misty mind
Incandescently so
Wayne Visser © 2017
Book
Icarus: Favourite Love Poems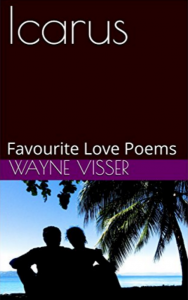 This creative collection, now in its 2nd edition, brings together love poems by Wayne Visser. The anthology traces love's agony ("Broken Dreams") and ecstasy ("Galaxies Cart-Wheeling"), from first blush ("Almost Strangers") to full bloom ("Say 'I Do!'"), as we fly to love. You've given me the gift of golden wings / The endless sphere of blue imaginings / The chance to rise above the silver clouds / The will to cast off untold ghostly shrouds / Don't fly too high / Don't rise too fast / Don't tease the sky / Don't taunt the past / You've given me the hope of warmer days / The blessed kiss of the sun's fiery rays. Buy the paper book / Buy the e-book.