What a year! Oh, what a year!
Around the block, around the bend
Around the world and back again
In time for snow and Christmas cheer!
What I've seen! Oh, what I've seen!
The fire's strong, the fire's bright
I chased the sun, I braved the night
I woke the muse and lived the dream!
What a time! Oh, what a time!
Of meeting minds, of meeting fears
Of random walks and World Cup cheers
I searched for reason, found my rhyme!
What a find! Oh, what a find!
To look beyond, to look within
To see a place I could begin
To leave the phantom past behind!
What a day! Oh, what a day!
When snowflakes danced with naked trees
When moonboats sailed on tranquil seas
Our dreams were young and love at play!
What a joy! Oh, what a joy!
To be so loved, to be so blessed
To still be on life's sacred quest
I'm all grown up, yet still a boy!
What a life! What paths I tread!
Through valleys low, to mountain peaks
With flowing words through hidden creeks
I'm forty, with the best ahead!
Wayne Visser © 2017
Book
Life in Transit: Favourite Travel & Tribute Poems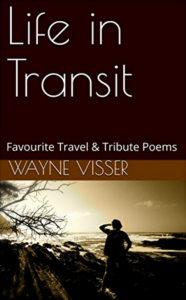 This creative collection, now in its 2nd edition, brings together travel and tribute poems by Wayne Visser. The anthology pays tribute to the likes of Nelson Mandela, Maya Angelou, Barack Obama, Antoni Gaudí & Leonardo da Vinci, and reflects on travels ranging from China and South Africa to Ecuador and Russia. Life is lived in the in-between / In transit / Between coming and going / Between staying and moving on / Between here and there / And what we call home / What we call settled or contented / Is merely a resting place / A station for refuelling / A nexus for reconnecting / A junction for changing direction. Buy the paper book / Buy the e-book.