I'm loofed upon my slumpfry chair
And snugful phrapped without a care
My mind's awhim with pluffly clouds
And wurvly willows floom like shrouds
And there beslind the zub-zib shore
I flond an open majling door
Inverpling me to shwelp into
A wurp-hole that wawoosks me through
To my surprang I chinz to meet
A flibbawookie with floq feet
She prurls into my whyful eyes
And squeebs to lerk me hypnotised
I flonk beneath her quirly gaze
And flerb into the mergly haze
I'm swooked with dreams of virv delight
And flummed with luzzness at first sight!
Wayne Visser © 2017
Book
Icarus: Favourite Love Poems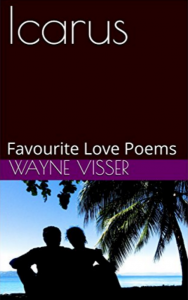 This creative collection, now in its 2nd edition, brings together love poems by Wayne Visser. The anthology traces love's agony ("Broken Dreams") and ecstasy ("Galaxies Cart-Wheeling"), from first blush ("Almost Strangers") to full bloom ("Say 'I Do!'"), as we fly to love. You've given me the gift of golden wings / The endless sphere of blue imaginings / The chance to rise above the silver clouds / The will to cast off untold ghostly shrouds / Don't fly too high / Don't rise too fast / Don't tease the sky / Don't taunt the past / You've given me the hope of warmer days / The blessed kiss of the sun's fiery rays. Buy the paper book / Buy the e-book.