A Tribute to Rome, Italy
Soak up
With all your senses
The Eternal City:
Ancient playground of gods
Fertile seedbed of legends
Feared seat of empire-builders
Gore-stained arena of gladiators
Dusty parade of soldiers
Muse-filled gallery of artists
Colourful canvass of architects
Taste parlour of connoisseurs
Intoxicating goblet of wine
Floodlit stage of sports-heroes
Nectar trap for tourists
Living history-book of people
Wayne Visser © 2017
Book
Life in Transit: Favourite Travel & Tribute Poems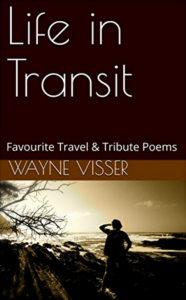 This creative collection, now in its 2nd edition, brings together travel and tribute poems by Wayne Visser. The anthology pays tribute to the likes of Nelson Mandela, Maya Angelou, Barack Obama, Antoni Gaudí & Leonardo da Vinci, and reflects on travels ranging from China and South Africa to Ecuador and Russia. Life is lived in the in-between / In transit / Between coming and going / Between staying and moving on / Between here and there / And what we call home / What we call settled or contented / Is merely a resting place / A station for refuelling / A nexus for reconnecting / A junction for changing direction. Buy the paper book / Buy the e-book.