By the dream, I'm enchanted
By the fantasy, enticed
Who needs feet firmly planted
When the sky's laced with spice?
And yet what if we wake up
And find our passion tree bare
With just words left to rake up
Of what was budding and rare?
And yet we must take this chance
And walk the bridge of meeting
For only then can we dance
And feel each other breathing
Wayne Visser © 2017
Book
Icarus: Favourite Love Poems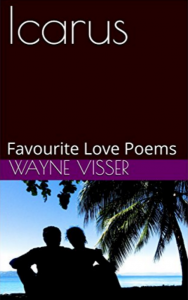 This creative collection, now in its 2nd edition, brings together love poems by Wayne Visser. The anthology traces love's agony ("Broken Dreams") and ecstasy ("Galaxies Cart-Wheeling"), from first blush ("Almost Strangers") to full bloom ("Say 'I Do!'"), as we fly to love. You've given me the gift of golden wings / The endless sphere of blue imaginings / The chance to rise above the silver clouds / The will to cast off untold ghostly shrouds / Don't fly too high / Don't rise too fast / Don't tease the sky / Don't taunt the past / You've given me the hope of warmer days / The blessed kiss of the sun's fiery rays. Buy the paper book / Buy the e-book.