You hear the news, the dice is cast
Nature's cruel sentence passed
What hope there was just seems to fade
The matter's closed, the choices made
It's like the walls are caving in
Your heartbeat aches, your feelings spin
You want to cry, you want to shout
You want to help, you've been shut out
Where's the justice? Who's to blame?
Why does it have to end this way?
Let me speak, this is my cue
Let me in, I love him too!
And feeling hopeless, we stand by
We see your pain, your head's held high
We know in time that you'll pull through
'Til then, remember: we love you
Wayne Visser © 2017
Book
Icarus: Favourite Love Poems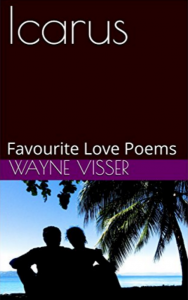 This creative collection, now in its 2nd edition, brings together love poems by Wayne Visser. The anthology traces love's agony ("Broken Dreams") and ecstasy ("Galaxies Cart-Wheeling"), from first blush ("Almost Strangers") to full bloom ("Say 'I Do!'"), as we fly to love. You've given me the gift of golden wings / The endless sphere of blue imaginings / The chance to rise above the silver clouds / The will to cast off untold ghostly shrouds / Don't fly too high / Don't rise too fast / Don't tease the sky / Don't taunt the past / You've given me the hope of warmer days / The blessed kiss of the sun's fiery rays. Buy the paper book / Buy the e-book.