An animal caged may be well cared for
Protected and pampered, admired and fed
But can what's gained ever make up for
What's lost if the spirit of freedom is dead?
We all pay a price when we try to insure for
Tempestuous weather and fortune's ebb tide
But can you find a replacement value for
A creative soul that has withered inside?
In a cluttered world there's no longer space for
Vast open plains without fences and walls
But can you cage the instinctive passion for
An untamed life where wildness still calls?
Wayne Visser © 2004
Book
Wishing Leaves: Favourite Nature Poems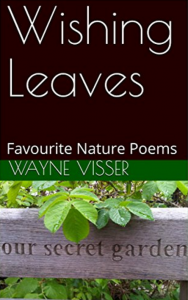 This creative collection, now in its 3rd edition, brings together nature poems by Wayne Visser, celebrating the diversity, beauty and ever-changing moods of our planet. The anthology includes many old favourites like "I Think I Was a Tree Once" and "A Bug's Life", as well as brand new poems like "Monet's Dream" and "The Environmentalist". Then as we turned our faces to the moon / Our hands entwined, our hearts in sync, in tune / We felt the fingers of the silken breeze / And made our wishes on the falling leaves / A gust of wind set off a whispered sigh / Among the trees that leaned against the sky.  Buy the paper book / Buy the e-book.