We think we know
In fact, we're sure
We've never been so sure before
Our feet are firmly planted
On love's rock-steady floor.
We think we know
Until we doubt
We let ourselves be turned about
Our level heart gets tilted
And love's storm turns to drought.
We think we know
Our mind's hell bent
But in the end we must relent
Our tryst is fated to become
A love ambivalent
Wayne Visser © 2017
Book
Icarus: Favourite Love Poems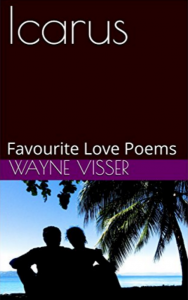 This creative collection, now in its 2nd edition, brings together love poems by Wayne Visser. The anthology traces love's agony ("Broken Dreams") and ecstasy ("Galaxies Cart-Wheeling"), from first blush ("Almost Strangers") to full bloom ("Say 'I Do!'"), as we fly to love. You've given me the gift of golden wings / The endless sphere of blue imaginings / The chance to rise above the silver clouds / The will to cast off untold ghostly shrouds / Don't fly too high / Don't rise too fast / Don't tease the sky / Don't taunt the past / You've given me the hope of warmer days / The blessed kiss of the sun's fiery rays. Buy the paper book / Buy the e-book.