Rainbows and Stormclouds
Chapter by Wayne Visser
Extract from South Africa: Reasons to Believe!
There are many words to describe South Africa's incredible journey through recent history. 'Dull' is certainly not one of them; neither is 'boring' or 'predictable'. Rather, words like 'epic' and 'revolutionary' come to mind. Much like those brave and sometimes arrogant navigators and explorers of the new world, we South Africans are a travel-hardened and weather-beaten bunch, with many rough storms and cruel twists of fate behind our back. Amazingly, we have endured. We are survivors. And we should be immensely proud. We should constantly remind ourselves how tough we really are; how, despite all the trials and tribulations we have faced, we have, repeatedly, overcome.
Of course, it's easy to be philosophical during the good times, when the sun is shining brightly and the waters are calm and sparkling. It's far more difficult when the wind is howling and the ship's mast is creaking, when the waves are crashing over the bough and the senses are numb from the lashing rain. And yet, this is exactly what the last few decades in South Africa have felt like – a relentless cycle of storms and rainbows. Like a sailing ship on the high seas, we have ridden out deep, dark troughs of fear and intimidation to ride high on the crest of the waves of liberating change, only to be plunged back into the torrid swells again. It has been a rough ride, by anyone's reckoning, and the journey is not yet at its end.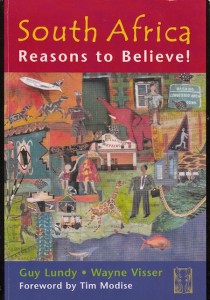 Perhaps it is not surprising, then, that fear and uncertainty still hangs like a dark cloud over our national psyche. We want to start this book by acknowledging the bad-weather pessimism that many people feel in our country today. But we also want to place it into perspective. In this first chapter, as we briefly recall some of the highs and lows of our roller coaster ride of recent years, we take heart from how far we have come in such a short time. After all, in the broad sweep of history, our achievements are nothing short of amazing. We remind ourselves how good we are at surviving and thriving, despite the odds. We are proof that the sun always does come out after the storm. We show that even the darkest clouds on our horizon have a silver lining. And, for good measure, we buff up those breathtaking colours of the rainbow that this nation has become. …
Continue reading
[button size="small" color="blue" style="download" new_window="false" link="http://www.waynevisser.com/wp-content/uploads/2012/04/book_rtb_chap1_rainbows_stormclouds.pdf"]Pdf[/button] Rainbows and Stormclouds (chapter)
Related pages
[button size="small" color="blue" style="info" new_window="false" link="http://www.waynevisser.com/books/south-africa"]Page[/button] South Africa: Reasons to Believe! (book)
Cite this chapter
Visser, W. (2003) Rainbows and Stormclouds, In G. Lundy & W. Visser, South Africa: Reasons to Believe! Cape Town: Aardvark, 1-14.
Love this page
Click on the pink heart in the heading if you LOVE this page
Share this page