Revisiting Carroll's CSR Pyramid:
An African Perspective
Chapter by Wayne Visser
Extract from Corporate Citizenship in Developing Countries
This chapter explores the nature of corporate social responsibility (CSR) in an African context, using Carroll's CSR Pyramid as a framework for descriptive analysis. Carroll's CSR Pyramid is probably the most well known model of CSR, with its four levels indicating the relative importance of economic, legal, ethical and philanthropic responsibilities respectively. However, the exploration of CSR in Africa is also used to challenge the accuracy and relevance Carroll's CSR Pyramid. If Carroll's basic four-part model is accepted, it is suggested that the relative priorities of CSR in Africa are likely to be different from the classic, American ordering. However, it is also proposed that Carroll's CSR Pyramid may not be the best model for understanding CSR in general, and CSR in Africa in particular. Anglo American is used as a case study to illustrate the debate.
The African Context
The debate over Africa's future has taken centre stage recently, with the publication of Our Common Interest, the report of the Commission for Africa (2005). The report calls for improved governance and capacity building, the pursuit of peace and security, investment in people, economic growth and poverty reduction, and increased and fairer trade. It is not hard to see that business has a key role to play in this transformation process, with much of its contribution capable of being to be framed in terms of CSR.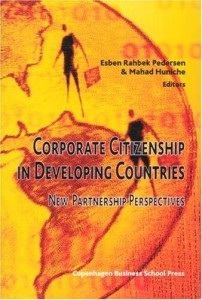 Despite generally negative press, there has been significant progress on the continent over the past decade. Fifteen countries, including Uganda, Ethiopia, and Burkina Faso, have been growing on average more than 5% per year since the mid-1990s. And foreign direct investment (FDI) rose to $8.5 billion in 2004, up from $7.8 billion the previous year (World Bank, 2005a). Africa's new generation of leaders, through initiatives like the New Partnership for Africa's Development (NEPAD) , the African Union  and the East African Community , are taking responsibility for development (Lundy & Visser, 2003).
Nevertheless, Africa remains a marginal region in global terms: With 12% of the world's population (around 750 million people) in 53 countries, Africa accounts for less than 2% of global gross domestic product (GDP) and FDI, and less than 10% of FDI to all developing countries (African Development Bank, 2003, 2004). Of the 81 poorest countries prioritised by the International Development Association, almost half are in Africa (World Bank, 2005a). And even within Africa, there is highly skewed development, with the largest ten economies accounting for 75% of the continent's GDP (African Development Bank, 2004).
The extent of the challenge for CSR in Africa becomes even clearer when we are reminded of the scale of social needs that still exist, despite decades of aid and development effort …
Continue reading
[button size="small" color="blue" style="download" new_window="false" link="http://www.waynevisser.com/wp-content/uploads/2012/04/chapter_wvisser_africa_csr_pyramid.pdf"]Pdf[/button] CSR Pyramid for Africa (chapter)
Related pages
[button size="small" color="blue" style="info" new_window="false" link="http://www.waynevisser.com/books/corporate-citizenship-in-africa"]Page[/button] Corporate Citizenship in Africa (book)
Cite this chapter
Visser, W. (2006) Revisiting Carroll's CSR Pyramid: An African Perspective, In E.R. Pedersen & M. Huniche (eds.), Corporate Citizenship in Developing Countries, Copenhagen: Copenhagen Business School Press, 29–56
Share this page