Research on Corporate Citizenship in Africa:
A Ten-year Review (1995-2005)
Chapter by Wayne Visser
Extract from Corporate Citizenship in Africa
This paper provides a brief analysis of Hence, there is great scope for expanding the amount of research on corporate citizenship in Africa, as well as improving the diversity of its content and its geographic coverage.
Introduction
Corporate citizenship in Africa is a critical area of scholarly enquiry, driven by the legacy of colonialism and apartheid, the human needs of the continent in the face of widespread poverty, and the trend towards improved social responsibility by multinationals in a globalising economy. Despite this growing importance, however, very little research has been done on corporate citizenship in Africa. In his introduction to the Business Ethics: A European Review special issue on Africa, Rossouw (2000) claims that "the first signs of academic life in business ethics on the African continent can be traced back to the 1980s" (225), but concedes that it remains fragmented and limited.
One of the reasons that this academic discourse is both interesting and important is that corporate citizenship in Africa has its own unique features, distinctive from other regions in the world. Rossouw (2000) suggests three areas that characterise business ethics in Africa: 1) On the macro-level, the influence of Africa's colonial and neo-colonial past; 2) On the meso-level, the moral responsibility of business towards the reconstruction of African societies; and 3) On the micro-level, the way in which individual businesses deal with affirmative action to overcome the consequences of historical racism, sexism and economic exclusion.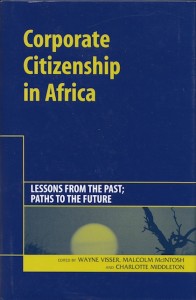 Visser (2005) argues that, in terms of Carroll's (1991) pyramid model of corporate social responsibility, in which the layers denote relative emphasis assigned to various responsibilities, Africa exhibits a different ordering to the classic model. Specifically, economic responsibilities still get the most emphasis, but philanthropy is given second highest priority (as opposed to legal responsibilities in the classic Carroll pyramid), followed by legal (as opposed to ethical) and then ethical (as opposed to philanthropic) responsibilities. Furthermore, he suggests that, given the ethical dilemmas faced by companies in Africa, a more dynamic and sophisticated model of corporate responsibility may be more appropriate, such as one drawing on complexity theory (McIntosh 2003).
In the first study of business ethics as an academic field in Africa, Barkhuysen and Rossouw (2000) found 77 courses and seven centres located in six countries, namely Egypt, Ghana, Kenya, Nigeria, South Africa and Uganda. Furthermore, they identified 167 relevant publications, including 130 articles and 26 books. The majority of articles were written by South African authors, followed by authors residing outside Africa, as well as some from Kenya, Uganda and Nigeria. The content was heavily focused on descriptive and normative ethical issues.
In a review of academic research on corporate citizenship in South Africa, Visser (2005) found that, of the pre-1994 publications, most deal with the ethical investment issues relating to apartheid, while, of the post-1994 articles, many focus on the individual ethics of South African managers. Other areas of focus have included specific South African sectors (most notably mining and chemicals), socially responsible investment, stakeholder theory, small and medium sized enterprises, corporate environmental management, sustainability reporting, corporate governance, and general CC corporate citizenship …
Continue reading
[button size="small" color="blue" style="download" new_window="false" link="http://www.waynevisser.com/wp-content/uploads/2012/04/chapter_wvisser_research_cc_africa.pdf"]Pdf[/button] CSR Research in Africa (chapter)
Related pages
[button size="small" color="blue" style="info" new_window="false" link="http://www.waynevisser.com/books/corporate-citizenship-in-africa"]Page[/button] Corporate Citizenship in Africa (book)
Cite this chapter
Visser, W. (2006) Research on Corporate Citizenship in Africa: A Ten-year Review (1995-2005), In W. Visser, M. McIntosh & C. Middleton (eds.), Corporate Citizenship in Africa: Lessons from the Past; Paths to the Future, Sheffield: Greenleaf, 18-28.
Share this page