The shadow moved across the sun
And turned my world a pallid grey
The tide of mourning had begun
And then I saw the children play
They did not soothe my aching grief
They did not make the burden light
But as they played, I felt relief
A candle glowing in my night
The steady rain began to fall
And washed the poison from death's sting
A sea of faces paid respect
And then I heard the children sing
They did not take my loss away
They did not turn the bitter sweet
But as they sang, I glimpsed a ray
A cycle turning, now complete
The rumbling storm brought lashing hail
Like pounding fists upon my heart
My anger rose to howling gale
And then I heard the children laugh
They did not dry my veil of tears
They did not make my dark skies blue
But as they laughed, I took a breath
And gained the strength to start anew.
Wayne Visser © 2018
Book
Life in Transit: Favourite Travel & Tribute Poems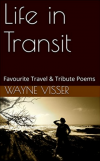 This creative collection, now in its 2nd edition, brings together travel and tribute poems by Wayne Visser. The anthology pays tribute to the likes of Nelson Mandela, Maya Angelou, Barack Obama, Antoni Gaudí & Leonardo da Vinci, and reflects on travels ranging from China and South Africa to Ecuador and Russia. Life is lived in the in-between / In transit / Between coming and going / Between staying and moving on / Between here and there / And what we call home / What we call settled or contented / Is merely a resting place / A station for refuelling / A nexus for reconnecting / A junction for changing direction. Buy the paper book / Buy the e-book.