There are bells for weddings, bells for births
And bells for calls to prayer
There are bells for mourning, bells for mirth
And bells for freedom's dare
There are bells for fire, bells for floods
And bells for threatened shores
There are bells for silence, bells that thud
And bells for music scores
So why no bells for Nature's ways
No bells for dusk or dawn?
Why no bells for dying days
No bells for breaking morn?
And why no bells for summer sun
No bells for winter moon?
Why no bells when autumn's come
No bells for springtime bloom?
Let bells ring out for living things
All creatures small and great
Let bells ring out: with beating wings
Our messengers of fate
Let bells ring out from mountain peaks
And toll from valleys low
Let bells ring out: Creation speaks
And all the world should know.
Wayne Visser © 2010
Book
Wishing Leaves: Favourite Nature Poems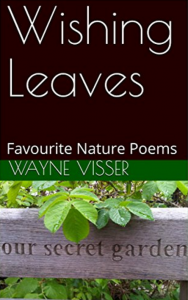 This creative collection, now in its 3rd edition, brings together nature poems by Wayne Visser, celebrating the diversity, beauty and ever-changing moods of our planet. The anthology includes many old favourites like "I Think I Was a Tree Once" and "A Bug's Life", as well as brand new poems like "Monet's Dream" and "The Environmentalist". Then as we turned our faces to the moon / Our hands entwined, our hearts in sync, in tune / We felt the fingers of the silken breeze / And made our wishes on the falling leaves / A gust of wind set off a whispered sigh / Among the trees that leaned against the sky.  Buy the paper book / Buy the e-book.