I think I was a tree once,
A long, long time ago.
It doesn't help to question;
It's something I just know.
I feel it when I'm swaying,
While gentle breezes blow,
And when my feet are rooted,
I feel the earth below
I fall with leaves of autumn –
My time for letting go;
I sleep with dreams of winter
Beneath the fallen snow;
I blossom in the springtime –
An iridescent show;
I bask in rays of summer –
Filled with an inner glow.
I feel the sap within me,
While silently it flows,
And as I reach for sunlight,
I feel my spirit grows.
I walk among the forest
When I am most alone
And there, among my kindred,
I know that I've come home.
Wayne Visser © 2006
Book
Wishing Leaves: Favourite Nature Poems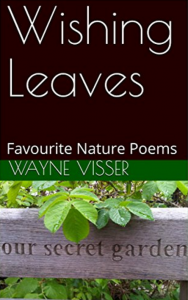 This creative collection, now in its 3rd edition, brings together nature poems by Wayne Visser, celebrating the diversity, beauty and ever-changing moods of our planet. The anthology includes many old favourites like "I Think I Was a Tree Once" and "A Bug's Life", as well as brand new poems like "Monet's Dream" and "The Environmentalist". Then as we turned our faces to the moon / Our hands entwined, our hearts in sync, in tune / We felt the fingers of the silken breeze / And made our wishes on the falling leaves / A gust of wind set off a whispered sigh / Among the trees that leaned against the sky.  Buy the paper book / Buy the e-book.