Switch off the lights
Turn off the plugs
Click … flick … click …
Slow down the clocks
Calm down the rush
Tick … tock … tick …
Let the dark enfold you
Let the stillness hold you
And hear the earth
Breathe a sigh of relief
Let the stress escape you
Let the moment take you
And feel the moon
Change a tide of belief
Strike up a match
Light up a candle
Flicker … flutter … flicker …
Watch as your thoughts dance
Wait as your mind grows
Quicker … quieter … quicker …
Let the hour unwind you
Let the meaning find you
And sense the touch
Of invisible hands
Let the rhythm shift you
Let the song uplift you
And feel the heartbeat
Of connected lands
Lighten your tread
Brighten your path
Step … stop … step …
Act for the child
Care for our home
Switch … shine … switch!
Wayne Visser © 2009
Book
Wishing Leaves: Favourite Nature Poems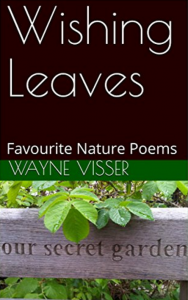 This creative collection, now in its 3rd edition, brings together nature poems by Wayne Visser, celebrating the diversity, beauty and ever-changing moods of our planet. The anthology includes many old favourites like "I Think I Was a Tree Once" and "A Bug's Life", as well as brand new poems like "Monet's Dream" and "The Environmentalist". Then as we turned our faces to the moon / Our hands entwined, our hearts in sync, in tune / We felt the fingers of the silken breeze / And made our wishes on the falling leaves / A gust of wind set off a whispered sigh / Among the trees that leaned against the sky.  Buy the paper book / Buy the e-book.