Let's change the world, let's shift it
Let's shake and remake it
Let's rearrange the pieces
The patterns in the maze
The reason for our days
In ways that make it better
In shades that make it brighter
That make the burden lighter
Because it's shared, because we dared
To dream and then to sweat it
To make our mark and not regret it
Let's plant a seed and humbly say:
I changed the world today!
Let's change the world, let's lift it
Let's take it and awake it
Let's challenge every leader
The citadels of power
The prisoners in the tower
The hour of need's upon us
It's time to raise our voices
To stand up for our choices
Because it's right, because we fight
For all that's just and fair
For a planet we can share
Let's join the cause and boldly say:
We'll change the world today!
Let's change the world, let's love it
Let's hold it and unfold it
Let's redesign the future
The fate of earth and sky
The existential why
Let's fly to where there's hope
To where the world is greener
Where air and water's cleaner
Because it's smart to make a start
To fix what we have broken
Our children's wish unspoken
Let's be the ones who rise and say:
We changed the world today!
Wayne Visser © 2018
Book
Seize the Day: Favourite Inspirational Poems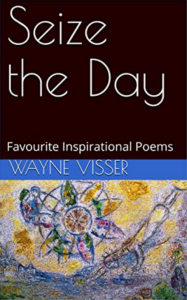 This creative collection, now in its 3rd edition, brings together favourite inspirational poems by Wayne Visser. The anthology takes us on a journey through the peaks and troughs of life, celebrating the indomitable human spirit.. It includes many old favourites like "Poets Must Be" and "Chasing the Blue", as well as brand new poems like "The Writer" and "Making Ripples". Sages through the ages wisely say: / Carpe Diem – seize the dawning day / Oh, would that I could assuage that thirst / But the day conspires to seize me first! / With the hurry and scurry / Of home's frantic flurry / And the hustle and bustle / Of work's tangled tussle. Buy the paper book / Buy the e-book.