Days may be dark and nights be long
But soon the song will change its tune
The beat will heat the winter's chill
Until the thrill returns to spark
And mark a sunrise, flaming red
To quench a hunger still unfed, a light
That's set to reignite the flight
Of dreams and schemes and imaginings.
Work may be hard and stress be high
But soon the sky will change its mood
The blaze of rays will melt the clouds
Until the shrouds are memories
Upon the breeze, the blue beyond
Like ripples on a tranquil pond, a sign
Across the arc of time to rhyme
Of scars and stars and destinies.
Life may be large and love be wide
But soon the tide will change its sway
The day you make your way towards
A cause that's calling out to you
To shift and shape, to reawake
The passion that's inside, the need
To grow and lead, the seed
Of traits and fates and futures bright.
Wayne Visser © 2020
Book
Seize the Day: Favourite Inspirational Poems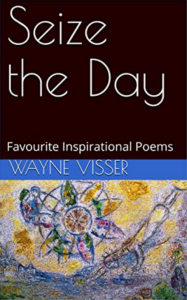 This creative collection, now in its 3rd edition, brings together favourite inspirational poems by Wayne Visser. The anthology takes us on a journey through the peaks and troughs of life, celebrating the indomitable human spirit.. It includes many old favourites like "Poets Must Be" and "Chasing the Blue", as well as brand new poems like "The Writer" and "Making Ripples". Sages through the ages wisely say: / Carpe Diem – seize the dawning day / Oh, would that I could assuage that thirst / But the day conspires to seize me first! / With the hurry and scurry / Of home's frantic flurry / And the hustle and bustle / Of work's tangled tussle. Buy the paper book / Buy the e-book.