The very moment that we met
I knew we would be best of friends
It started back in Tott'nham days
But that's not how the story ends
As both our lives began to change
New partners and new purpose too
We seemed to move in swaying sync
With worlds unfolding bright and new
Now when I think of you, I smile
Recalling cider wisdom shared
And all the colours of your life
A sign of one who dreamed and dared
Today your sun's on painted sky
With fresh adventures to begin
A flower shows your essence true
Of beauty blooming from within.
Wayne Visser © 2020
Book
Life in Transit: Favourite Travel & Tribute Poems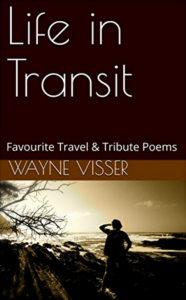 This creative collection, now in its 2nd edition, brings together travel and tribute poems by Wayne Visser. The anthology pays tribute to the likes of Nelson Mandela, Maya Angelou, Barack Obama, Antoni Gaudí & Leonardo da Vinci, and reflects on travels ranging from China and South Africa to Ecuador and Russia. Life is lived in the in-between / In transit / Between coming and going / Between staying and moving on / Between here and there / And what we call home / What we call settled or contented / Is merely a resting place / A station for refuelling / A nexus for reconnecting / A junction for changing direction. Buy the paper book / Buy the e-book.