We met upon the battlefield
And you, a warrior for the cause
Defending all the rights of those
Who journeyed to our distant shores
We found our love in forests green
And there, your wounds began to heal
The wooden staff I carved by hand
Replaced the weary sword of steel
We set off on an unknown trail
That rose to meet a mountain range
The sun reflected in your eyes
Inspired us both to make a change
We each discovered hidden paths
New ways in which to learn and lead
And now a movement lives and breathes
Because we planted that first seed
We found our bliss beneath the trees
Our cottage made into a home
It is our refuge from the storm
No matter where we reach and roam
We met against the odds of fate
Now those you love are by your side
I'm lucky to be one of them
To hold your hand with joy and pride.
Wayne Visser © 2022
Book
Icarus: Favourite Love Poems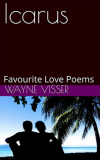 This creative collection, now in its 2nd edition, brings together love poems by Wayne Visser. The anthology traces love's agony ("Broken Dreams") and ecstasy ("Galaxies Cart-Wheeling"), from first blush ("Almost Strangers") to full bloom ("Say 'I Do!'"), as we fly to love. You've given me the gift of golden wings / The endless sphere of blue imaginings / The chance to rise above the silver clouds / The will to cast off untold ghostly shrouds / Don't fly too high / Don't rise too fast / Don't tease the sky / Don't taunt the past / You've given me the hope of warmer days / The blessed kiss of the sun's fiery rays. Buy the paper book / Buy the e-book.