Keynotes, Lectures, Workshops and Training
Dr Wayne Visser has delivered more than 330 professional speeches all around the world, with his work taking him to 74 countries in the last 20 years. The topics that Wayne frequently talks on include:
Creating Integrated Value (CIV): Beyond CSR and CSV
The Future of Business: How to Survive & Thrive
The Art and Practice of Sustainability Leadership
CSR 2.0: Beyond ISO 26000 to the Future of CSR
The Business Case for Sustainability & Responsibility
Sustainability Strategies for Global Challenges
Purpose-Inspired Enterprise & Entrepreneurship
CSR/Sustainability Best Practices Around the World
Sustainability Innovation & Change Management
Making a Difference: Society, Organisations & Individuals
Audience Feedback 
"You delivered exactly what we wanted in terms of getting some thought provoking issues out there for the audience to start contemplating as we started off the day." – International Finance Corporation, World Bank Group, USA
"Everyone talking about how your session was the best of the week! We want more Wayne (in person)!" –University of Cambridge, UK
"Very informative and helpful" – Korea Institute for Strategic Social Responsibility, South Korea
"My favourite [speaker]. He is interactive, uses different mediums, knows subject, is current. I left wanting to go and specialise in sustainability." – Gordon Institute of Business Science, South Africa
"Very inspiring and encouraging for the Sri Lankan attendees" – CSR Sri Lanka, Sri Lanka
"One of the greatest courses ever, nothing bad to say." – Kedge Business School, University of Bordeaux, France
"Everyone was extremely positive about the event afterwards and very impressed by your comprehensive knowledge, your convincing argument and the great clarity and persuasiveness with which you delivered your message." – University of Winchester, UK
Here is an interview by Speaker's Corner with Wayne about life as a professional speaker.
Training courses
In addition to public speaking, Dr Visser delivers the following training workshops:
Transformational Leadership and Change
Enterprise Reform and Social Enterprise
Technology Innovation
Corporate Transparency
Stakeholder Engagement and Cross Sector Partnerships
Social Responsibility
Integrated Value
Future Fitness
Business and Human Rights
Development and Forced Migration
CSR International (now called Sustainability & Social Responsibility International), founded by Dr Visser, also offers online training for becoming a licensed CSR 2.0 Assessor and Advisor.
Downloads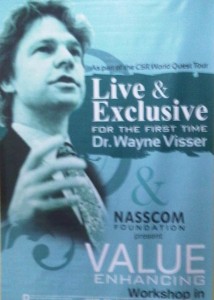 Sample of speaking engagements from 2016
BELGIUM: Future Trends & Future Fitness, 1 day, Workshop for Randstad, Antwerp Management School, La Roche, 30 August 2016.
MALAYSIA: Sustainable Frontiers and New Leadership, Presentation, Emerging Leaders Dialogue Asia Conference, Kuala Lumpur, 20 October 2016.
ITALY: Environmental Performance as a Crucial Option for Economic Competitiveness, Presentation, International Conference on Connecting Reconnecting Economy and Society Through Innovation, Taglio Di Po, Rovigo, 30 September 2016.
UK: Mapping the changes to the energy manager's  role, Panel chair, The Energy Event 2016, Birmingham, 7 July 2016.
ECUADOR: Sustainability Leadership and Social Responsibility, 1-day workshop, Secretaria de Ambiente del municipio de Quito, Quito, 1 June 2016.
MEXICO: Competencies For Our Global Challenges: Leading Change Through Sustainable Innovation, 2 day course and half-day workshop, Monterrey Institute for Technology, Guadalajara, 25-27 May.
NETHERLANDS: The Role of Education in Shaping the Sustainability Leaders we Need for the Future, 5th Global GRI Conference, Amsterdam, Netherlands, 19 May 2016.
PORTUGAL: In Transition to a Green and Sustainable Future, Presentation, Roadmap for Green Entrepreneurship Conference, JEVE (Youth for Green Entrepreneurship and Employability), Lisbon, 20 April 2016.
SOUTH AFRICA: The Disruptors: Reinventing Business & Society Through Conscious Capitalism, Presentation, Serious Social Investment Conference 2016, Tshikululu Social Investments and Gordon Institute of Business Science, Johannesburg, 12 April 2016.
Bookings
To book Wayne for a paid speaking engagement, please use the Contact form below.

Share this page