Keynotes, Lectures, Workshops and Training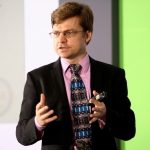 Dr Wayne Visser has delivered more than 370 professional speeches, courses, lectures and training sessions all around the world, with his work taking him to 75 countries in the last 30 years. You can read an interview by Speaker's Corner with Dr Visser about his life as a professional speaker, which began when he won the Jordison Cup for Public Speaking in 1987. The topics that Dr Visser frequently talks on include:
Creating Integrated Value (CIV): Beyond CSR and CSV
The Future of Business: How to Survive & Thrive
The Art and Practice of Sustainability Leadership
CSR 2.0: Beyond ISO 26000 to the Future of CSR
The Business Case for Sustainability & Responsibility
Sustainability Strategies for Global Challenges
Purpose-Inspired Enterprise & Entrepreneurship
CSR/Sustainability Best Practices Around the World
Sustainability Innovation & Change Management
Making a Difference: Society, Organisations & Individuals
Audience Feedback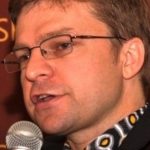 Dr Visser has been frequently lauded for the quality of his presentations. He is known for his informative and visually engaging slides and extensive use of case studies from around the world. For example, when he was lecturing at Warwick Business School in the UK, he won the Outstanding Teacher Award of the Warwick MBA two years in a row. Here is an indicative sample of the feedback he has received from his audiences:
"You delivered exactly what we wanted in terms of getting some thought provoking issues out there for the audience to start contemplating as we started off the day." – International Finance Corporation, World Bank Group, USA
"Everyone talking about how your session was the best of the week! We want more Wayne (in person)!" –University of Cambridge, UK
"Very informative and helpful" – Korea Institute for Strategic Social Responsibility, South Korea
"My favourite [speaker]. He is interactive, uses different mediums, knows subject, is current. I left wanting to go and specialise in sustainability." – Gordon Institute of Business Science, South Africa
"Very inspiring and encouraging for the Sri Lankan attendees" – CSR Sri Lanka, Sri Lanka
"One of the greatest courses ever, nothing bad to say." – Kedge Business School, University of Bordeaux, France
"Everyone was extremely positive about the event afterwards and very impressed by your comprehensive knowledge, your convincing argument and the great clarity and persuasiveness with which you delivered your message." – University of Winchester, UK
Training Courses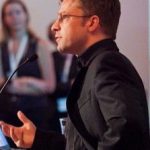 In addition to public speaking, Dr Visser delivers the following training workshops on behalf of Kaleidoscope Futures and CSR International, in collaboration with his training partner and fellow Director of Kaleidoscope Futures, Indira Kartallozi. These can be tailored, mixed and matched and delivered to any audience and in any city or country. Find out more about delivering these courses at your organisation.
Transformational Leadership & Becoming a Future-Fit Organisation
Sustainability Innovation & Growing Effective Changemakers
Business' Human Rights & Responding to the Refugee Crisis
Transformative Social Responsibility & Creating Integrated Value
Stakeholder Engagement & Discovering New Tools for Transparency
Dr Visser also offers CSR 2.0 Licensee training. This gives trainees access to the CSR 2.0 Self Assessment Tool, which is based on Dr Visser's work on transformative CSR and developed by CSR International and Hexagon. The 70 question Self Assessment Tool evaluates organisations against:
5 Stages of CSR (Defensive, Charitable, Promotional, Strategic & Transformative)
4 DNA Elements of CSR 2.0 (Value Creation, Good Governance, Societal Contribution & Environmental Integrity)
5 Principles of CSR 2.0 (Creativity, Scalability, Responsiveness, Glocality, Circularity)
Upon completion of the CSR 2.0 Licensee training, which is 4-hours long and is delivered online (via Skype), licensees are able to use the tool with their own clients or in their own organisation. The cost of the training is £300 and the user-fee is £150 per assessment. Enquire about the training.
Sample of Speaking Engagements from 2017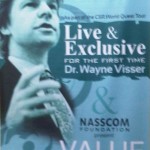 NETHERLANDS: Narrative Intelligence: The Art and Practice of Sustainability Myth Making, NHTV Breda University of Applied Sciences, Utrecht, 30 November 2017.
BELGIUM: Integrated Value: The Future of Sustainable Business in the Nexus Economy, Keynote, Federal Institute for Sustainable Development (FIDO) Conference, Brussels, 19 October 2017.
CANADA: Frontiers in Social Responsibility: From CSR to Integrated Value, Keynote, Soul of the Next Economy Forum, Ambrose University, Calgary, 29 September 2017.
UK: Sustainable Technology and Innovation, Lecture, Masters in Sustainability Leadership, Institute for Sustainability Leadership, University of Cambridge, Cambridge, 3 August 2017.
MALAYSIA: Sustainability and Social Innovation: Growing Effective Change-makers, 1-day workshop, impacto, Kuala Lumpur, 25 July 2017.
PHILIPPINES: Are You Fit for the Future? Global Trends Towards Integrated Value, Keynote, League of Corporate Foundations CSR Expo, Manilla, 19 July 2017.
SOUTH AFRICA: Innovation for Future Fitness, 4 days, MBA module, Gordon Institute of Business Science, University of Pretoria, Johannesburg, 15-18 June 2017.
Speaker Biography and Bookings
Speaker Biography (Pdf)
To book Wayne for a paid speaking engagement, please use the Contact form below.