Life in Transit:
Favourite Travel & Tribute Poems
Book by Wayne Visser
This creative collection brings together travel and tribute poems by South African poet and writer, Wayne Visser. The anthology pays tribute to the likes of Nelson Mandela, Maya Angelou, Barack Obama, Antoni Gaudí & Leonardo da Vinci, and reflects on travels ranging from China and South Africa to Ecuador and Russia.
Life is lived in the in-between

In transit

Between coming and going

Between staying and moving on

Between here and there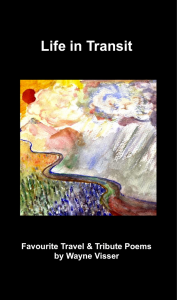 Poems
Life in Transit | Generation Found | We Rise, We Shine (Tribute to Maya Angelou) | Thirty Four | Roots in the Skies (Madagascar) | He Lived Among Us (Tribute to Nelson Mandela) | Land of Emerald Dreams (Swellendam, South Africa) | Thirty Five | Poem for New Year | I Wish She'd Stayed (In Memoriam: Karen Weinberg) | Grief Gorky Park (Moscow, Russia) | The Barefoot Don (Tribute to Manfred Max-Neef) | Thirty Six | Genesis Islands (Galapagos, Ecuador) | Marie's Poem (Written for Marie Steyn) | The End The Dragon and the Phoenix (China) | Thirty Seven | This Day (Commemorating Barack Obama's 2009 Inauguration) | Lasso Poet (Written about Wendy Cope) | Cove of the Caspian (Baku, Azerbaijan) | Thirty Eight | Renaissance Man (Tribute to Leonardo Da Vinci) | A Promise of New Worlds | Gone Too Soon (In Memoriam: Margaret Legum) | Loss | Thirty Nine | A Tale of Two Cities (Mannheim, Germany) | Dream-Shaper (Tribute to Antoni Gaudí) | Tide of White (Edinburgh, Scotland) | Forty | Trumpet Lonely (Tribute to Hugh Masekela) | Eternal City (Rome, Italy) | Tell Me Your Story (Written for Jeanette Hilda Visser, Mom) | Forty One | Transatlantic Pilgrims (California, Arizona & Nevada, USA) | Good to Say Goodbye | Stranger | Forty Two | The Highwaymen | Nexus (Johannesburg, South Africa) | I See You Clearly (In Memoriam: Bob Steyn) | Empty Spaces | Forty Three | The Day the World Changed (New York, USA) | Love and Blessings | A Place to Bury Your Heart (Romania) | Gran | Orbits | Building Stone Upon Stone (Scotland and Ireland) | Footprints | Love the Landscape of Your Life
Details
Title: Life in Transit: Favourite Travel & Tribute Poems
Author: Wayne Visser
Publisher: Lulu (1st ed. pbk. 2014)
Citation: Visser, W. (2014) Icarus: Favourite Travel & Tribute Poems, Paperback edition, London: Lulu.
Download
Pdf Life in Transit (poem)
Buy the book
Share this page