Icarus:
Favourite Love Poems by Wayne Visser
Book by Wayne Visser
This creative collection brings together love poems by South African poet and writer, Wayne Visser. The anthology traces love's agony (Broken Dreams) and ecstasy (Galaxies Cart-Wheeling), from first blush (Almost Strangers) to full bloom (Say "I Do!"), as we fly to love:
You've given me the gift of golden wings The endless sphere of blue imaginings The chance to rise above the silver clouds The will to cast off untold ghostly shrouds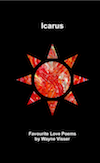 Poems
Icarus | Sky Dream | Enchanted | Fly to Love | Almost Strangers | Valentine | Perfume | The Web | Florentine Nights | Autumn Kisses | Love Floats | Ivy Love | The Dream of You | Perfect Day | Chocolate Seduction | A Love That Could Last | Galaxies Cart-Wheeling | I Hear You | Turkish Coffee Kisses | Flibbawookie | Broken Dreams | Love-Shapes | Just Imagine | Island Dreams | Listen As She Hums | The End (This Time) | Caterpillar Kisses | My Secret | Happy to See You | Scattered Leaves | Rainbow Mists | Talk to Me! | The Web of Love | Gifts | Dance Me | Gentle On My Mind | Dressing Gown | Desert Love | Subway Angel | Unspoken Words | Wild Love | Kismet | I Lie Awake | The Joining of Hands | Moment of Truth | Resonance | Ambivalence | Villanelle for Justice | Hard to Say | Through It All | Shooting Star | Je T'Adore | Say "I Do!"
Details
Title: Icarus: Favourite Love Poems by Wayne Visser
Author: Wayne Visser
Publisher: Lulu (1st ed. pbk. 2013)
Citation: Visser, W. (2013) Icarus: Favourite Love Poems by Wayne Visser, Paperback edition, London: Lulu.
Downloads
Buy the book
Share this page